---
The top-voted comment on this new story over at the Daily Mail titled "Capitol riot has encouraged extremists fueled by racial division, QAnon conspiracies and fringe views who now pose the 'greatest domestic terrorism threats in 2021', intelligence bulletin warns – as FBI probe whether MAGA mob planned siege" was a blunt, 8-word reply: "But still won't classify antifa???? Stop the hypocrisy." And another top-rated comment: "Soooo rioting was okay for nine months? Oh, I get it. It's okay if you are wearing the correct jersey."
(Article by Stefan Stanford republished from AllNewsPipeline.com)
With Democrat-instigated Antifa and BLM burning down and terrorizing cities all across America for years completely ignored by Democrats and the mainstream media while they insanely scream 'sedition' in 2021 with Joe Biden days away from office, we're now watching age-old tactics of the 'deep state' used to 'demonize' a certain group of people, or a person, tactics which were absolutely used by the 'deep state' to 'destroy' President Trump.
And with those tactics also used to completely control the mainstream media and turn them into a full-scale anti-freedom 'Communist-style' press, as we'll explore within this ANP story, these tactics were written about in a 2016 book titled "Spooked: How the CIA Manipulates the Media and Hoodwinks Hollywood".
Using these tactics to also 'create' the 'fake news' that President Trump often warned about, which is at the same time the 'state propaganda' that we've also long reported about here on ANP, once that 'veil of lies' which has 'hypnotized' most Americans for decades is 'blown to smithereens' via the emergence of 'truth', those holding power and sway over the hypnotized masses will lose that power, but not until. 
So while calling for 'truth' to emerge in the remaining few days of President Trump's tenure in office by Trump declassifying Democrat crimes upon America, including the Russian collusion hoax pushed by the mainstream media and Democrats for most of President Trump's term, we also need to take a look back at how America got into the mess we're now in, with a 'big tech' coup of our Republic in progress and 100's of millions of Americans completely and utterly clueless that they've long been lied to
First of all, the description of the book "Spooked", called "a searing indictment of our time and 'a concise and convincing essay' on the nastiness of the CIA and the power it wields over American media".
The American people depend on a free press to keep a close and impartial watch on the national security operations that are carried out in our name. But in many cases, this trust is sadly misplaced, as leading journalists are seduced and manipulated by the secretive agencies they cover. 
While the press remains silent about its corrupting relationship with the intelligence community—a relationship that dates back to the Cold War—Spooking the News will blow the lid off this unseemly arrangement. Schou will name names and shine a spotlight on flagrant examples of collusion, when respected reporters have crossed the line and sold out to powerful agencies. The book will also document how the CIA has embedded itself in "liberal" Hollywood to ensure that its fictional spies get the hero treatment on screen. 
Among the revelations in Spooking the News: 
• The CIA created a special public affairs unit to influence the production of Hollywood films and TV shows, allowing celebrities involved in pro-CIA projects—including Harrison Ford and Ben Affleck—unique access inside the agency's headquarters. 
• The CIA vets articles on controversial topics like the drone assassination program and grants friendly reporters background briefings on classified material, while simultaneously prosecuting ex-officers who spill the beans on damaging information.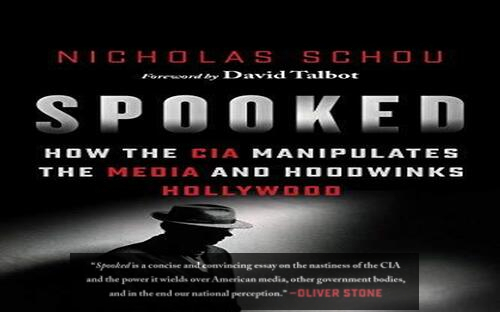 With what was supposed to be a US government agency 
prohibited from spying against Americans, in part because President Truman was afraid that the agency would engage in political abuse
, and 
'the law'
 not stopping the CIA from spying on Americans and conducting operations on US soil, they first 
ventured into domestic spying in appropriately named "Operation Chaos" 
in the 1960's.
Read more at: AllNewsPipeline.com